Meet today's challenges by transforming how you think
It's how you think, not what you think . . . Business, economy, politics, and society are currently in transition to a greater degree of uncertainty and complexity. Changing how we think and developing multiple standpoints and enlarged perspectives are needed to meet the individual and organisational challenges that are arising.
Join us in the Keynes Centre for Transformational Leadership Experiences to achieve your own professional transformation – essential for modern leadership.
The Keynes Centre, based at University College Cork, Ireland, has established a reputation internationally as a leading home for innovative thinking about leadership, redefining and championing its importance for people in all walks of life and for all kinds of organisations.
Find out more about The Keynes Centre

'THE LEADERSHIP MIND' EXPERIENCE
This developmental experience will attract those with an appetite for disruptive and challenging growth.
Participating will help you develop new mental strengths and emotional resilience, equipping you to get the best from yourself, your people, and your customers.
You will develop the ability to operate with new tools of thinking, moving you away from over-relying on control and perfection to having a fuller and more integrated approach to building relationships and making judgements.
'The Leadership Mind' Experience is designed for senior management. Participants are likely to be already making decisions, influencing staff and customers, and have an appetite for change and growth.
Once you have experienced a transformation in your thinking as a lived experience, you will be more self-aware and able to engage with the complexity of the world more effectively.
Specifically you will be able to:
Practice "Leadership as Insight".
Immerse yourself in "working out" your insights.
Hold multiple standpoints while making judgements
Anchor yourself in a "self-authored mind."
Be able to select appropriate concepts and theories and think with them, making informed choices.
Be aware of the impact on others.
Take responsibility for and regulating your own mind and behaviour.
'The Leadership Mind' Experience is a one-day open offering, after which individual sessions will be provided over the course of the year.
We can also adapt 'The Leadership Mind' Experience to a specific company offering on request.
NOW AVAILABLE to purchase on Amazon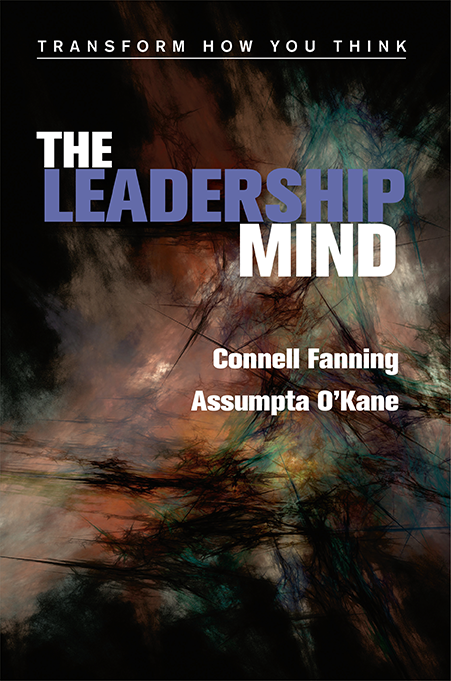 A workable and sustainable concept of 'leadership'
The Leadership Mind is about how to think about 'leadership' as a capability that can be developed through personal transformation, culminating in 'The Leadership Mind' – a mind that can operate at uncertainty and meet the challenges of an increasingly complex world.
Cutting through the current bewildering confusion of ideas in the field, it provides a workable and sustainable concept of 'leadership' centred on 'insight', allowing us to think more clearly about leadership practice and development.
The book also offers guidance on how to press the re-start button by stepping away from the crowd and taking responsibility for our own development. By thinking anew, we can take our first step towards genuine leadership.
The Authors: Connell Fanning is Professor Emeritus of Economics and Founding Director of The Keynes Centre. Assumpta O'Kane is an occupational psychologist and researcher, a facilitator of transformation in adult development, and a specialist advisor on organisational development
---
Online resources for the book can be found here.
---